Properly diagnosing physical ailments is the first step in treating your pets. By getting a proper diagnosis, you can rest assured your veterinarian is treating your pet's condition with the right medications, procedures, and even surgery. However, it can be difficult to get a proper diagnosis without the right diagnostic tools.
Our dedicated staff at Fairway Knolls Veterinary Hospital in Bloomington is here to make sure your pet has an accurate diagnosis and the best treatment options available. We use advanced radiology diagnostics, including ultrasound testing, to take a deep look at your pet and get to the root of the symptoms.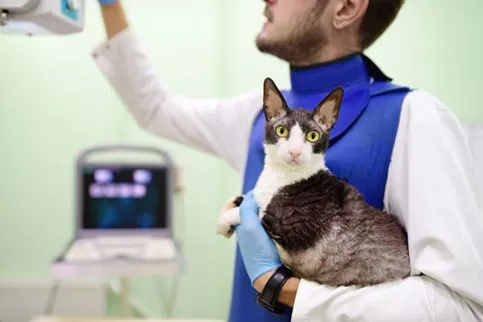 What is Veterinary Radiology?
Just like humans need the help of radiology and diagnostic equipment to get properly diagnosed, veterinary radiology uses a variety of methods to diagnose your pet. This includes:
Ultrasound
X-Rays
MRI's
CT Scans
Radiographs
These tests can diagnose a variety of ailments in your pet, ranging from:
Stomach issues
Issues with the intestines
Pregnancy
Internal bleeding
Broken bones
Fluid in the chest cavity
Cancers and to measure tumor growth
Advancement of osteoarthritis
What Kind of Imaging Does my Pet Need?
Veterinary radiology involves using a variety of imaging methods, all of which can be useful to determine the state of your pet's health in different situations. For instance, x-rays can be conducted relatively quickly using an x-ray machine. X-rays help diagnose fractures, broken bones, and other health issues.
Ultrasounds are also commonly used in pet radiology and can be used during certain procedures such as biopsies. Just like female humans, female cats and dogs can also have an ultrasound to determine the health of their babies.
MRI's are a bit more detailed and often require preparation beforehand, such as holding food for 12 hours before the procedure and undergoing general anesthesia. This is a safe method to diagnose issues in the brain and spinal cord.
Your veterinarian will determine which imaging method is appropriate for your pet and help guide your pet through the process. We can then use the results of these imaging tests to properly diagnose your pet and then create an appropriate treatment plan.
Visit Our Animal Clinic in Bloomington, IL
At Fairway Knolls Veterinary Hospital, our animal clinic uses the best diagnostic equipment to ensure your pet gets the highest-quality care available. Call our team today at (309) 663-1414 or reach us through our website by using our online contact form.