We at Fairway Knolls Veterinary Hospital in Bloomington, IL, are a full-service animal clinic that uses different techniques, tools, and technology to help provide the best services to the residents in the area. Our team of professionals can provide the information and services necessary to care for your pet, whether it's a routine exam or treatment for something more serious. A "veterinarian near me" is here to help.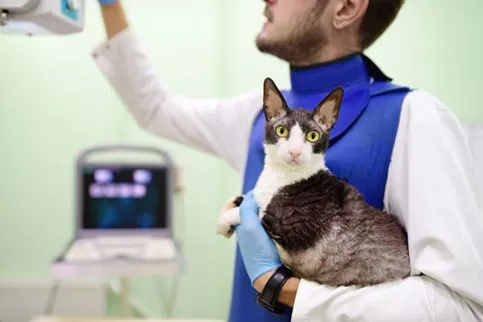 What Is Pet Radiology?
When your pet has an illness or injury, you may need to use diagnostic tools to help determine the cause of the problem. One such tool is an ultrasound. These tools are used to help see inside the pet's body to see if there are any new or developing conditions or underlying problems that can be dangerous.
Some dangerous issues that can be detected using ultrasound include blockages in the intestines, stomach issues, and internal injuries. These services are available to all our customers to help them care for their pets when they need it most.
Other Veterinary Tests
In addition to these testing services, the vet may perform a physical exam and run more tests to get a clearer picture of the issue.
These tools are similar to those used on humans and they can help provide the best picture of what's going on inside your pet. Using those capabilities provides veterinarians and technicians with the information they need to start a course of treatment to help remedy the issues.
You can count on us to provide the testing necessary to help uncover the cause of a condition or any dangerous issues that pose a threat to your pet's well-being. Once a problem is detected, we can consult with you to suggest a course of treatment that we can provide at our clinic.
Get Ultrasound from Our Animal Clinic for Stomach Issues
If you would like to learn more about pet radiology or if you suspect your pet has stomach issues or painful intestines, we encourage you to reach out to us. Feel free to call our clinic to schedule an appointment.
If your pet is experiencing a serious problem with his intestines, or other organs, we will provide you with information to help you move forward and get your pet the treatment he needs. Our goal is to provide you and your pet with a range of treatments and services at our animal clinic to help him when he needs it most. Call us at (309) 663-1414 for more information from a "veterinarian near me" on our team at Fairway Knolls Veterinary Hospital in Bloomington, IL